International Exhibition Booth "Wine Quality Legend" from Greece
| Date: 03/08/2022, 10:14 AM |
International Exhibition specialized in Food - Beverage - Packaging Machinery (Vietfood & Beverage and ProPack) was first held in 1996.
Vietfood & Beverage and ProPack Vietnam is a convergence of emerging businesses and big names in the industry. The core purpose is to increase trade, promote trade, bring value to suppliers and consumers. If small businesses introduce new products, find customers and measure consumers' response; the big players in the Food and Beverage industry still take advantage of building trust and a solid position in the industry business community and consumers.
VietFood & Beverage and ProPack Vietnam has been attended by many large corporations from developed countries, ready to provide a chain of assembly, packaging, and preservation lines.
Talking about Wine, most of us will think of wine bottles made from grapes with a light taste that is easy to drink. But few people know, wine is a drink with a long history, associated with many Greek myths.
Coming to Vietfood, Greek manufacturers bring to customers not only premium drinks of the civilized world, but especially the culture and art of enjoyment.
Exhibition booth of Greek manufacturers with the theme "Wine Quality Legend" at the International Exhibition of Food - Beverage - Packaging Machinery (Vietfood & Beverage and ProPack) 2022 (𝟏𝟏-𝟏𝟑/𝟎𝟖) /𝟐𝟎𝟐𝟐) at SECC. The exhibition booth "Wine Quality Legend" was designed and built by the Event Management Company - YesEvents in Ho Chi Minh city.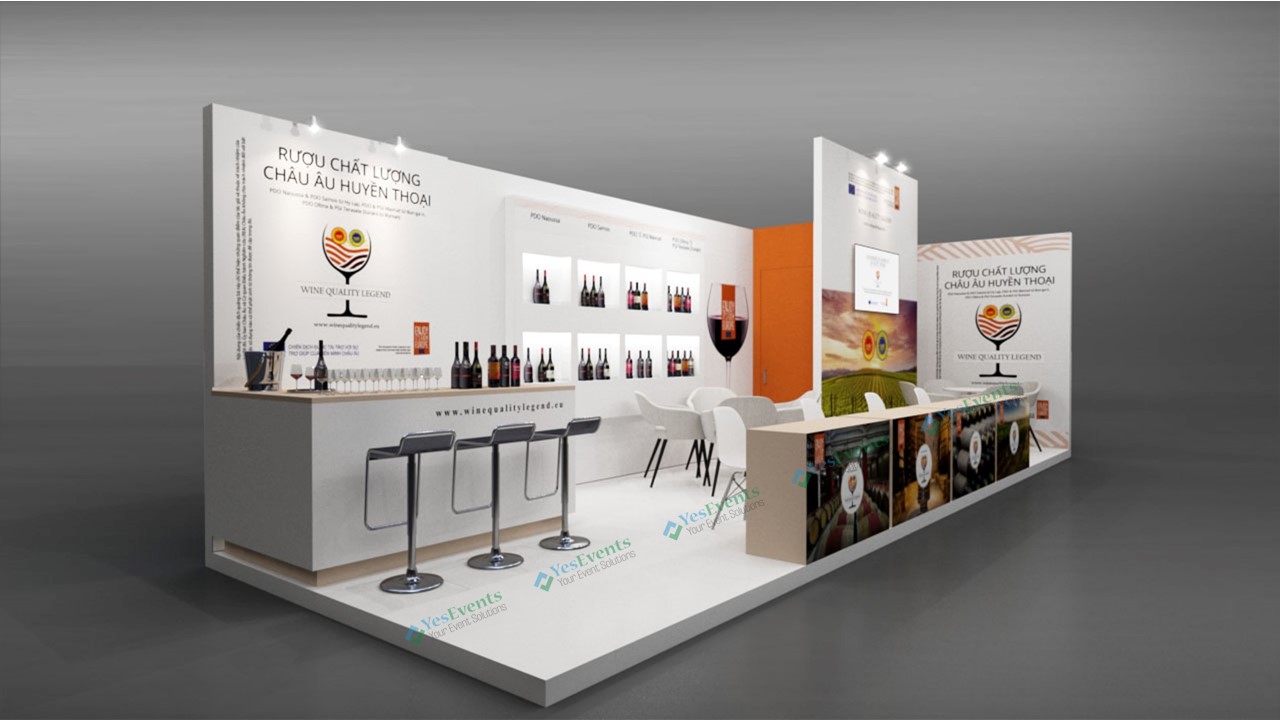 The project "European wine legend"-101015671 concerns the promotion of European quality wines (PDO Xinomavro, PDO/PGI Mavrud, PDO Samos and PGI Terasele Dunarii) in third countries South Korea, Vietnam and Singapore.
For more information on the products, please visit website: https://www.winequalitylegend.eu/index.php/en/
Direct trade at stand with manufacturers from Greece:: 11-𝟏𝟑/𝟎𝟖/𝟐𝟎𝟐𝟐LOCATION: 𝗔𝟭𝟲𝟬 - 𝗔𝟭𝟲𝟯 booth area; 𝗕𝟭𝟬𝟴; 𝗖𝟭𝟬𝟵 - 𝗖𝟭𝟮𝟰; 𝗘𝟭𝟬𝟭- 𝗘𝟭𝟬𝟯 - Hall A1 - SECC, 799 Nguyen Van Linh, District 7, City. Ho Chi Minh City
Event Management Company in Ho Chi Minh city – YesEvents provides reliable and good quality event service for domestic and oversea clients. Currently, YesEvents locates in Ho Chi Minh city and Phu Quoc city.